During the period of February to April 2010, the Yemeni team has launched a workshop at the Sheba hotel on the 25th of March, 2010 in Sanaa. The event was attended by stakeholders, international agencies, policy makers, and local NGOs. . The main purpose was to showcase the importance of the project within the community as well as to gain support for future actions regarding the formulation of parents and students councils. During the workshop, two schools were announced; Al Fajar Al Jadeed and Al Jawea, in the presence of members form the ministry of education and members of parliament interested in education in Yemen.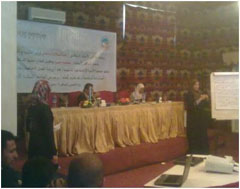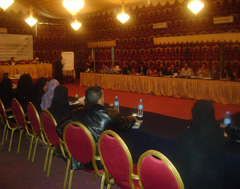 The launching has also highlighted the details of the project and was attended by project participants and identified stakeholders. The event was very successful and covered by major newspapers, TVs and radio outlets. Please refer to the links below for detailed media coverage

The closing ceremony for the Yemeni YWL Project took place at Sheba Hotel at 9 a.m on 15/7/2010.



Click here to view MEPI HIGHLIGHTS BI-WEEKLY UPDATE
Useful Links:

algomhoriah.net/newsweekarticle.php?sid=106179
www.sabanews.net/ar/news209708.htm
www.nabanews.net/2009/25235.html
algomhoriah.net/day/2010/03/26-03-2010/p02.pdf
www.yemen-tv.net/news_details.php?sid=7074
www.moeyemen.net/News%5CViewNews.aspx?news_id=142
corp.gulfinthemedia.com/gulf_media/full_ar.php?module=view_article_ar_same &free=1&id=1154680
http://www.mwfye.org/
67.225.239.75/news_details.php?lng=arabic &sid=62373
www.almasdaronline.com/index.php?page=news &article-section=1 &news_id=6493
www.al-tagheer.com/news.php?id=15950
www.nabanews.net/2009/25235.html
www.moeyemen.net/News%5CViewNews.aspx?news_id=142
www.almotamar.net/news/79239.htm
www.newsyemen.net/view_news.asp?sub_no=1_2010_03_23_42483