The Traveling Road Showcase in Bahrain was a success. It took place on December 3 and 4, 2010 at the Movenpick Hotel in Manama, Bahrain with 40 participants.
The morning session had the Bahraini group presenting their project. It was well organized and very well presented. After the presentation, the floor was open to discussion. The questions were very challenging and the participants were able to respond to the questions very easily. At one time, the questions and answers developed into an interesting debate.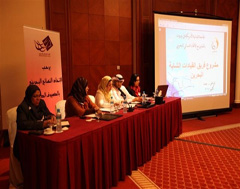 Due to the restrictions imposed on this tour, we were not able to invite neither the Saudi nor the Yemeni team. But, being faithful to the mission of this project "showcase", we gave the audience the main points about the plan, the execution and the final projects of both teams. There was a slideshow of each project because the teams were not present.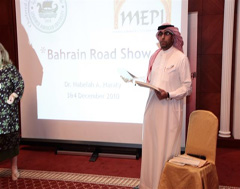 The afternoon session dealt with the importance of communication and listening. The session was a hand-on workshop where all the participants engaged in many activities. Some of the activities were individualistic while others were group activities. A great part of the presentation highlighted the importance of listening before speaking. Negotiation and leadership roles were the last activity. The afternoon session was also very well received and the audience was eager for more. Dr. Haraty wrapped up the first day's showcase by emphasizing the importance of networking. Many of the participants were interested in becoming MEPI young leaders.




On the second day, Dr. Salman Al Fardan, a specialist and trainer on networking held the morning sessions. His presentation was more practical than theoretical and this motivated the audience. It was a very interactive session. His introductory part was to define networking and the role that networking plays among organizations. He also talked about the ethics, positive as well as the negative aspects of networking. He gave examples and exercises that aimed at drawing the attention to the pivotal role networking plays. He gave instructions as to how to start networking and the changes that result as a consequence of networking. He talked about the skills in networking, leadership roles in networking, coordination and sustainability. He briefly mentioned the added value of networking in communities. The session ended because we ran out of time and not because the audience got tired. This is a very good sign that the session was well received.




Dr. Wajeeha Al Baharna and Ms. Saba Asfour co-presented the afternoon sessions. They talked more on the problems related to women issues and how we can raise awareness to these problems. It was an advocacy session by all means. The co-presenters gave the audience each a task to adopt a cause and then work out (in terms of acting) a campaign to raise awareness regarding the case. The problems varied from child abuse to early marriage, to the need for counseling and the right of a mother to give her child her nationality.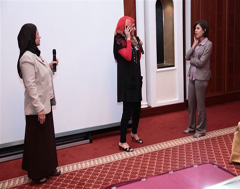 At the end of the second day, the audience was asked to fill out forms in terms of contact information so as to start their core of networking and cooperation. One of the participants, Mrs. May Abed El Aziz, was so impressed by the showcase and wanted to start branching out and coordinating with other organizations. She invited all the groups, committees, sessions and organizations who need a venue to hold their meetings to go anytime to Salman's Cultural Center and she would gladly accommodate them free of charge. Mrs. Abed El Aziz is currently the head of the center. So this was one of the positive outcomes. Another positive outcome was that some organizations were amazed by the work of our Bahraini Young Women Leaders that they intend to host them at their organizations to share their success stories with other members of these organizations.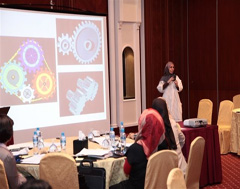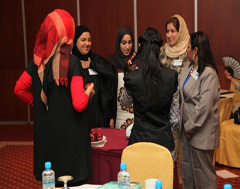 Finally, many thanks go to Bahrain Women Union (BWU), the Bahrain Women Association for Development, Estedama Consultancy Group for their support and help throughout the showcase. They helped and assisted in many aspects of conducting the showcase during the two days.
Dr. Ghaniya Alaiwi moderated the sessions.





Workshop Facilitator and Bahrain Young Women Leaders Mentor

Dr. Ghaniya Alaiwi
Dr. Ghaniya Alaiwi is Sr. Specialist of Curricula development in Ministry of Education, Kingdom of Bahrain.
Some of her professional experience:

- Training of assistant directors in the administrative apprenticeship diploma.
- Member of the team Enter the Education in Human Rights Education in Bahrain.
- Member of the Committee on Scientific Research Award, Ministry of Education, Bahrain.
- Teaching for high diploma for teacher.
- Member of High Studies Committee-Poly technique, Ministry of Education, Bahrain.
- Participated in writing book, namely Instruction Guide for Curriculum specialists.
- Participated in writing no. of school books such as: Sound & Music, Light & Radiation, Properties of Matter, Technical Root, 3rd secondary school level, The Arabian center for Educational Research, 1996, Nuclear Physics, Secondary level, 1991.
- Representative of the Kingdom of Bahrain in Synchrotron Light for Experimental Science and Applications in the Middle East (SESAME) in 2005.
- Accomplished numbers of technical papers in education.
1983-Now:

- Active Member of Bahrain's Young Ladies Association.
- The chair women of Public Relations and Media in Blood Donation Campaign.
- Member of Al-Naiem'Youth Center.
- Member of Al-SHABAB Sporting Club.
- Member of the Arabic net for studying democracy


Bahrain Young Women Leaders – Presenters :

Amina Hassan Abdullah
She works as an administrative coordinator of Smart Coaching & Research Center and Business Care Consulting Bureau. She has worked as a volunteer with organizations of civil society for about 15 years and assumed the positions of President and Vice-Chairperson of more than one committee. She coordinated leadership programs for civil society organization in different directions, including youth, women's, professional, public interest, political and special needs in cooperation with the Middle East Partnership Initiative. She also worked to coordinate youth leadership programs in collaboration with the British Embassy in Bahrain and program for anti-domestic violence with Vital Voices international Organization.
She has participated in special program of producing public service announcements with barefoot workshops funded by Middle East Partnership Initiative. She is a participant in Women's Leadership and Technology Conference Advancing Social Media for Community Engagement in Sharjah, The conference was hosted by American University and sponsored by the Sharjah Chamber of Commerce Industry.

Fatima Al Hajari – Bahrain
A journalist from Mahriq Bahrain who has always worked as a journalist for the majority of the Bahrain Jounalism eg: Alwatan, Alwasat, Bahrain Television and is currently working in Al Aswaq. She started her work in 1994. She is a member of the Journalism Syndicate and "Mourasilat Bilahoudoud" and in the Arabian Journalism Organization. She graduated with distinction in Journalism from the University of Bahrain. Currently she is preparing her thesis on "economic journalism" in the Ahli University. She took part in covering important events eg: Iraqi War 2003 and witnessed the fall of the plane in Al-Mahriq in 2000. She also took part in many workshops in different Arab Countries. In addition to that she took part in many scientific researches in the Bahrain University and the Ahliyah University about "Deputy Elections and Political Movements" and now she is majoring in Economic Journalism after she had written many reports related to political, social and human issues.

Sayed Adnan Jalal – Bahrain
Holds a Bachelor in Management Information Systems from Delmon University- Kingdom of Bahrain. Since 2003 he has been Computer Lab Technician at the Ministry of Education. Mr. Jalal worked as a journalist and photographer at Alwasseet Newspaper and Alayan Newspaper. He is the current president of the Hawar Society and member of the Bahrain Youth Forum Society and the Bahraini Journalist Association.

Huda Radhi – Bahrain
She is the Director and Distribution Agent of Daskalides Bahrain. She is the Manager at the International Banking Division in the Arab Investment Company. She received her MSC in Systems Engineering and Management and her BA in international Business and French from Richmond, The International University in London. She pursued her mini MBA in Entrepreneurship from Beyster Institute of the Rady School of Management, University of San Diego. She participated in and completed the "Women Entrepreneurship Development and Enterprise Creation Programme" that was organized by The Arab Regional Centre of Entrepreneurship and Investment Training (UNIDO), in association with the Ministry of Industry, Bahrain Development Bank and Bahrain Businesswomen Society. She worked as a Relationship Manager at TAIB Bank, Bahrain, and Independent Consultant at Reuters UK and Credit Assistant at Merrill Lynch UK. She has memberships and affiliations in several societies in Bahrain and overseas. She is a member in Bahrain Business Women Society- Former Board Member in Bahrain French Club- Founder Member of National Charter Society. She has affiliate members in UK with the Institute of Electrical Engineers and with Institute of Management Consultant and with Global Association of Risk Professionals.

Naima Al Sammak
Ms. Al Sammak is a journalist and writer for 20 years. She is a specialist in education and student activities at the Ministry of Education. She is a member of the Bahrain Women Union, Young Women Society, and Family of Scholars and Writers.


Day 1
Session
Time
Topic
Session 1
9:00 – 9:30
Reception, Welcome and Introduction
Session 2
9:30-11:00
Bahraini women present their leadership experience in advocating equal social benefits after death
11:00-11:15
Coffee Break
11:00 – 11:15
Coffee Break
11:15 – 1:15
Bahrain Video

Open Discussion
1:00-2:15
Networking Lunch
Session 3
Session 3
Dr. Haraty on Leadership and Communication Skills
4:00-4:30
Open Discussion

Wrap ups and Notes for the Second Day Workshop
Day 2
Session
Time
Topic
9:00 – 9:30
Reception- Introduction of the speakers
Session 1
9:30 – 11:00
Mr. Salman Al Fardan on Networking Among Civil Society Groups
11:00 - 11:15
Coffee Break
Session 2
11:15 - 12:45
Open Discussion
12:45 – 2:00
Lunch
Session 3
2:00 – 3:15
Dr. Wajeeha Al Baharna on Advocating for Women Rights
Session 4
3:15 - 4:30
Open Discussion

Wrap-ups

Evaluation

Distribution of Certificates
Workshop Trainers Bios:

Dr. Nabelah A. Haraty
Lecturer of Communication Arts at the Lebanese American University. She received her MLA from the University of Western Maryland and her Ed.D from the University of Brunel. Dr. Haraty teaches Fundamentals of Oral Communication and English as a second language. Her publications and research are related to the field of oral communication and sociolinguistics. She has given many workshops in her areas of expertise and co-authored a textbook on teaching English as a second language. Her present interests include; Critical Thinking, Communication and Public Relations, Communication and Leadership, and The Laughing Classroom.

Wajeeha S. Al-Baharna - Bahrain
Vice-President of Bahrain Women's Association, focusing on Women Empowerment Programs. She is also Board Member of Innovation Cultural Society (Al- Tajdeed), focusing on Innovation of Islamic thought. Board member at Arab Women leadership Institute (AWLI), Jordan and Bridging the Gulf Foundation, Netherland.
Albaharna is member of Board of Trustees at the following organizations: Arab Thought Forum (Jordan), Arab Network for Non-Governmental Organizations (Cairo), World Association of Non-Governmental Organizations (USA), and Network of Democrats in the Arab World (NDAW). She worked as Advisor with Global Fund for Women (USA). She is leading the "Nationality Campaign" in Bahrain in coordination with CRTD (Lebanon), and member in family law committee in Bahrain. Al-Baharna was born in Bahrain, has her PhD degree in Environment, and works as Marine Biologist in the Public Commission for the Protection of Marine Resources and Environment and Wild Life in Bahrain.
wajeeha99@hotmail.com

Mr. Salman Al-Fardan
Mr. Al-Fardan is a long term activist and trainer on civil society and organizations. Mr. Al-Fardan is a specialist on networking among Civil Society groups.